Friday, May 29, 2009
Shah Deniz output set to rise
05-26-2009 - Upstream OnLine - Production from the Shah Deniz gas field, in Azerbaijan's sector of Caspian Sea, is set to rise as officials plan for the second phase of development, Azeri ministers said. Azeri Energy Minister Natig Aliyev said production from Shah Deniz could rise roughly 15 billion cubic feet annually to about 318 billion cubic feet annually, the Trend news agency reports. Aliyev said that production level would be maintained until operations at the second phase of Shah Deniz begin, said a United Press International report. Gas from the offshore field goes to Azeri, Georgian and Turkish customers. Energy officials, however, blame Turkey for a series of setbacks from production at the second phase. The offshore Shah Deniz field began gas production in 2006. Gas production could reach 706 billion cubic feet once Phase 2 comes online in 2012. In February Turkey stated its intention to buy more natural gas from Azerbaijan through the Phase 2 development. Russia and Iran have eyed developments there as well. StatoilHydro is the majority operator of the field.
Tuesday, May 26, 2009
Baku ratifies deal with Total
May 22, 2009 (UPI) - BAKU, Azerbaijan, The Azeri Parliament ratified on Friday an exploration and development contract for the offshore Absheron field in the Caspian Sea with French company Total. Total takes a 60 percent stake in a joint venture with the State Oil Co. of Azerbaijan Republic from a contract signed between both parties in February. Estimated gas reserves at Absheron are believed to be on par with the massive Shah Deniz field, which holds estimated potential recoverable resources of roughly 15 trillion cubic feet of natural gas. Total reserves the option to sell its shares to Gaz de France Suez in the future while financing SOCAR's shares during the exploratory period at the Absheron field, the Trend news agency reports. Total and SOCAR will drill three wells at the site within the next three years. Azerbaijan boasts some of the largest gas fields in the world, with Baku expecting to produce as much as 1.1 trillion cubic feet of natural gas by 2011.
Eni denies Iranian deal
May 22, 2009 (UPI) - TEHRAN, Italian energy company Eni denied reports it was interested in a deal with Iran to develop the third phase of the Darkhovin gas field near the border with Iraq. Eni and Iran's Arvadan Oil and Gas Co., a division of National Iranian Oil Co., signed in 2001 a $550 million deal to develop the initial phase of Darkhovin. The first phase began operation in 2005, and second-phase development is under way. Iran's Press TV reported Eni officials told the Petroenergy Information Network, the official news agency of the Iranian Oil Ministry, the Italian company had submitted a feasibility study for the third-phase development. Press TV also reported earlier this week Eni was expected to sign a $1.5 billion deal to develop a third phase of the Darkhovin field. "Eni is currently active in the first two phases of Darkhovin and has voiced interest in developing the oil field's third phase with an investment of $1.5 billion," Press TV quoted the ministry's news agency as saying. Paolo Scaroni, the chief executive at Eni, denied it was moving forward with the investment, however. "That report is false," he said.
Eni moves deeper into Iranian oil fields

May 21, 2009 (UPI) - TEHRAN, Italian energy company Eni is expected to sign a $1.5 billion deal to develop a third phase of the Darkhovin oil field near the Iraqi border. Iran's Arvandan Oil and Gas Co., a division of National Iranian Oil Co., signed a $550 million deal with Eni in 2001 to develop the initial phase of the Darkhovin field. The first phase began operation in 2005, and second-phase development is under way. Eni announced it was interested in third-phase development with a $1.5 billion investment, submitting feasibility plans to their Iranian counterparts, Iran's Press TV boasts. Iran has pushed hard for foreign investments in its energy sector amid harsh Western-backed economic incentives. Several European countries have expressed reservations over dealings in the Iranian energy sector in part due to Iran's controversial nuclear program. Iran, however, sits on some of the largest natural resource reserves in the world, ranking third in terms of global oil reserves and second in terms of gas.
KazMunaiGaz E&P pumps up profit
05-21-2009 - Upstream OnLine - Kazakhstan oil producer KazMunaiGaz Exploration & Production saw its net profit increase 70% year-on-year in the first quarter on foreign exchange gains while core earnings declined. It said net profit for the first three months of 2009 was 108.0 billion tenge ($777.9 million), up from 63.5 billion a year earlier. "The net income increase is mainly attributable to foreign exchange gain of 101.6 billion tenge (pre-tax) following tenge devaluation in February 2009," the company said in a statement. Kazakhstan devalued the tenge by 18% against the dollar in February to prop up its economic competitiveness and save reserves following a similar devaluation in Russia. "Excluding the foreign exchange gain, net income declined 57% year-on-year, mainly reflecting significantly lower crude oil prices in 2009," KazMunaiGaz E&P said. It said first quarter revenues fell 42% to 83.2 billion tenge while operating expenses rose 28% due to the introduction of the rent tax and the mineral extraction tax that replaced royalties this year. KazMunaiGaz E&P said it had entered hedging agreements in February for 36% of its planned monthly output throughout this year. The hedging will protect it in case benchmark Brent crude prices fall below $40 per barrel, but the company will have to give up some of its profit if the price goes above agreed ceilings of $75 to $77 per barrel. Kazakh state energy player KazMunaiGaz owns a controlling stake in London-listed KazMunaiGaz E&P.
Thursday, May 21, 2009
Iraq in Arab gas pipe talk for Euro supply
20 May, 2009 – Upstream OnLine – Iraq is in talks to possibly export surplus natural gas through the Arab Gas Pipeline to the Middle East and Europe, Oil Minister Hussain al-Shahristani said today. "We are in talks to connect the Iraqi (gas) surplus to this pipeline in order to export it to Arab states and then to Europe," Oil Minister Hussain al-Shahristani said, referring to a gas pipeline originating in Egypt. Shahristani spoke during a press conference with Egyptian Oil Minister Sameh Fahmy, who was making a visit to Baghdad.
Tuesday, May 19, 2009
Kuwait May Re-tender $8B Refinery
May 18, 2009 - Dow Jones
by Maria Abi-Habib
- Kuwait National Petroleum Co., or KNPC, may re-tender a delayed $8.3 billion project to build a refinery after the election of a new parliament could clear political objections to the plant, a senior executive told Zawya Dow Jones. "This is a strategic project and it has to go through," said Asaad Al Saad, deputy chairman of KNPC, in a recent interview. "The problem is, will we continue with the same people or re-tender? It looks more like we will re-tender it, unfortunately, because of the politics involved." Al Saad expects that the stalled Al Zour refinery will be given the "go ahead" with the new government. Kuwait elected a new parliament over the weekend. But the Supreme Petroleum Council, which oversees Kuwait's oil interests, will also have to reconsider the project. The election of a new moderate parliament in Kuwait, which for the first time includes four women lawmakers, could clear the way for progress on key energy projects in Kuwait that had previously been blocked by Islamists. Kuwait holds the world's fifth-largest oil reserves and is a member of the Organization of Petroleum Exporting Countries. The Al Zour refinery project came under intense scrutiny last year after opposition members of parliament alleged that contract awarded by KNPC didn't comply with the tender procedures set out by Kuwait's Central Tenders Committee, which handles all public sector contracts. The project was referred to the State Audit Bureau. The company signed four letters of intent for the project work worth $8.3 billion, one with a Japanese-South Korean consortium and three with South Korean firms, to build the 615,000 barrel-a-day refinery. A separate contract, worth an estimated $2 billion, was awarded to U.S. engineering firm Fluor Corp. (FLR). Al Saad said the companies haven't taken KNPC to court over the canceled letters of intent and that KNPC is showing that its interest in buidling the plant "is still there." CLEAN FUELS Progress is also expected on KNPC's estimated $5 billion Clean Fuels Project. The cost of the project, which involves significant upgrades to existing refineries, could drop by up to 20% and KNPC will invite international companies to bid for construction work this year, Al Saad said. "The cost will slip by between 15% to 20%," he said, adding that this could reduce capital expenditure on the project by about $1 billion. Bidding is expected to start this year for each of the two refineries that will be upgraded to produce "high yield" products like kerosene and diesel as part of the Clean Fuels Project, he said. The project aims to make Kuwait's aging refineries more competitive and compliant with international environmental standards. Kuwait's refining industry has been plagued by shutdowns and accidents at its major facilities due to the age of the plants. After the completion of the clean fuels project, the capacity of Mina Abdulla and Mina Al Ahmadi refineries will be boosted to 800,000 barrels a day, Al Saad said. Mina Abdulla currently has a production of 270,000 barrels per day while Mina Al Ahmadi produces 460,000 barrels daily, he added. KNPC will also build new storage for liquid gas and a plant to treat sour or acid gas, Al Saad said. The company expects the gas project to cost 120 million Kuwaiti dinar ($414 million) and the tanker will be up to KWD50 million, he said, adding that bidding for both projects will start in the next three months. "The gas treatment plant will treat 230 million cubic feet daily," Al Saad said.
Duo make Kashagan splash
05-18-2009 - Upstream OnLine - Italian services giant Saipem and Norway's Aker Solutions have bagged work on the Kashagan development in the Kazakh sector of the Caspian Sea. In a release, Saipem said the contract is part of the development's experimental programme which will see crude oil and associated gas produced via an artificial offshore facilities system, called Block D and Block A. The job was awarded to Saipem in partnership with Norway's Aker Solutions. Saipem's portion of the contract is worth about $1 billion. The company said the Saipem-Aker Solutions partnership was chosen by Agip KCO to carry out the hook-up and commissioning of the offshore facilities, as well as the inshore completion and pre-fabrication work, which will be executed in the Kuryk yard in Kazakhstan. The marine activities will be carried out using five barges converted into temporary living quarters and offices, as well as temporary barges, which Saipem refurbished and prepared according to the preliminary contract signed with Agip KCO in 2007. Saipem said the work will be completed by 2012. The company added that the very shallow water at the project site, coupled with the severe weather and the stringent environmental restrictions the project must meet alongside the lack of infrastructure for the offshore industry make the project particularly complex and challenging. In a separate release, Aker Solutions said its portion of the contract is worth about $1.6 billion.
Monday, May 18, 2009
Oil Demand Seen Plummeting in '09
15 May 2009 - Reuters - LONDON - World oil demand this year will post the sharpest annual decline since 1981 as the economy struggles to bounce back, the International Energy Agency said Thursday. Demand will contract by 2.56 million barrels per day in 2009, the IEA, which advises 28 industrialized countries, said in a monthly report. It previously forecast that demand would fall by 2.4 million bpd this year. Oil market fundamentals remained weak, and a rise in oil prices, which hit $60 a barrel for the first time in six months on Tuesday, was because of sentiment rather than evidence of higher consumption, the agency said. "The oil price seems to have moved a bit higher in the past month largely on the basis of equity markets and sentiment about potential economic recovery," said David Fyfe, head of the IEA's Oil Industry and Markets Division. "But we're not seeing it in terms of the preliminary demand data for early 2009." The IEA's forecast follows a lower demand projection from exporter group OPEC on Wednesday. The IEA also said OPEC was pumping more oil, a sign that higher prices are prompting members to relax adherence to agreed output curbs. Oil fell after the report was released, with U.S. crude down $1.00 at $57.02 on Thursday. The lower demand forecast was a surprise, as IEA executive director Nobuo Tanaka said Wednesday that the forecast would not change much. Maintaining its bearish tone, the IEA also said oil stocks in the industrialized world ballooned to a fresh 16-year high in March, and supply from outside OPEC would not fall as far as previously thought in 2009. "The report is commensurate with the depth of economic contraction we are currently experiencing," said Harry Tchilinguirian, senior oil analyst at BNP Paribas. "Our view is that positive growth will emerge for the major economies in mid-2010, and on that basis, the IEA's bearish report is not surprising." The IEA's previous prediction for the decline in 2009 world oil demand was already the largest among analysts tracked by Reuters. The agency now expects demand to average 83.2 million bpd -- lower than the 84.03 million bpd expected by the Organization of the Petroleum Exporting Countries, which issued its Monthly Oil Market Report on Wednesday. OPEC has promised to cut oil supply by 4.2 million bpd, equal to about 5 percent of daily world demand, from its output levels since September to try to support prices. The IEA's report, like that of OPEC on Wednesday, said the group reduced its level of adherence to supply targets in April after several months of lowering supplies. OPEC's 11 members with output targets in April raised output by 230,000 bpd to 25.8 million bpd, according to the IEA. That reduced its compliance with the cutbacks to 78 percent from 83 percent in March. The group meets on May 28 in Vienna to set supply policy, and the IEA said waning compliance, plus Angola's request for an exemption from output limits, could make any further cut in the overall supply target difficult. While seeing higher OPEC supply, the IEA also raised its forecast for production outside OPEC by 50,000 bpd because of stable North Sea output and higher-than-expected data from Russia. Total non-OPEC supply was forecast to fall to 50.3 million bpd, from 50.6 million bpd in 2008.
Friday, May 15, 2009
Shah Deniz lacking production agreements
May 14, 2009 - (UPI) - BAKU, Azerbaijan. Production at Phase 2 of the offshore Shah Deniz gas field in the Caspian Sea requires purchase and transit agreements, Azeri officials said. Azerbaijan President Ilham Aliyev met with Turkish Prime Minister Recep Tayyip Erdogan in the Azeri capital, Baku, to discuss bilateral energy measures. Officials with StatoilHydro-Azerbaijan, an owner at Shah Deniz, blamed Turkey in April for holding up development of Phase 2 of Shah Deniz. "The time frame of the development is not discussed at the moment," said Olav Skalmeras, the vice president of StatoilHydro-Azerbaijan. "It can be discussed only after the issue of gas transit via Turkey is solved." Aliyev said during the meeting with Erdogan that his country needs gas purchase agreements and transit provisions in order to launch Phase 2, the Trend Capital news agency reports. Gas volumes from Phase 1 of Shah Deniz are sold to customers in Azerbaijan, Georgia and Turkey. Aliyev said his country would remain present in the European energy market. "Azerbaijan makes its contribution to energy security of Europe and will continue to do so," he said. He added, however, that a diverse customer base was a policy that "meets our interests." Europe is looking at Azerbaijan as a potential supplier to the planned Nabucco gas pipeline. Turkey would host a major leg of that project.
Thursday, May 14, 2009
Kazakhstan commits to Russian-led Europe gas link
ALMATY, May 13 (Reuters
by Maria Golovnina
) - Kazakhstan approved its participation in a Moscow-led gas pipeline, which could divert potential supplies away from Europe's Nabucco project, days after refusing to commit to the EU-backed plan to cut reliance on Russia. President Nursultan Nazarbayev signed Kazakhstan's agreement with Russia and Turkmenistan into law on Wednesday, according to the presidential website akorda.kz. Diplomats who attended a summit in Prague last week said Almaty, Turkmenistan and Uzbekistan had refused to sign a final declaration to speed up work on the European Union-backed Nabucco project to bring Caspian gas to Europe. Russia agreed with Central Asian producers in 2007 to carry more of their gas to Russia by increasing the capacity of the Central Asia-Center pipeline system, which would allow Moscow to keep regional gas flows under its control. But talks have stalled and analysts have said Central Asian states could opt to work more closely with European plans to import gas via the Trans-Caspian Gas Pipeline under the inland sea, rather than sending it around the northern coast to Russia. The Russian pipeline plan is expected to transport up to an extra 10 billion cubic metres of Turkmen gas a year and the same volume of additional Kazakh supplies, according to the original deal. Officials say it would come on stream by March 2010, a year before construction work on Nabucco is scheduled to start, but its cost and precise construction plan remain unclear. Russia's Gazprom said last month it may double the capacity of the pipeline in which Uzbekistan is also due to take part. Gazprom currently buys about 50 bcm of gas a year from Turkmenistan, about 15 bcm from Uzbekistan and less than 10 bcm from Kazakhstan using a Soviet-era pipeline. All countries in the region plan to boost output in the future but the West hopes that these additional volumes would be exported through new routes bypassing Russia. A source close to the Nabucco project told Reuters the three countries wanted guarantees and tangible incentives to supply the pipeline. Turkmenistan, the region's biggest gas exporter, which also plans to begin shipments to China through a new link later this year, has said it could fill all the planned pipelines.
Tuesday, May 12, 2009
ExxonMobil Attends Inauguration of World's Largest LNG Receiving Terminal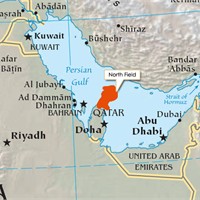 May 12, 2009 - RigZone News - May 12 marks the official inauguration of the South Hook Liquefied Natural Gas (LNG) receiving terminal at Milford Haven, Pembrokeshire, Wales. The ceremony takes place today in the presence of HM The Queen of the United Kingdom and His Highness Sheikh Hamad bin Khalifa Al Thani, Amir of the State of Qatar, as well as other members of both royal families. The South Hook terminal represents a technological milestone as a part of the Qatargas 2 LNG value chain project that will make additional supplies of cleaner-burning natural gas available to the UK and the rest of Europe. South Hook LNG Terminal Company Ltd. is owned by Qatar Petroleum (67.5%), ExxonMobil (24.15%) and Total (8.35%). It is part of the larger Qatargas 2 joint venture which supplies gas to the UK from Qatar's North Field. The natural gas comes from the North Field off the coast of Qatar, and is brought ashore to be processed and liquefied at Ras Laffan Industrial City in Qatar. It is then loaded onto a fleet of world-class Q-Max and Q-Flex LNG ships and transported to the UK. The terminal adds to the UK's LNG import capacity and energy diversity with the ability to deliver up to 2 billion cubic feet of gas daily into the natural gas grid when it reaches full operational capacity by the end of 2009. The terminal, which is being completed in two phases, includes five LNG storage tanks, a regasification plant, ship unloading systems and a jetty to allow berthing of the world's largest LNG vessels. "The inauguration of the terminal is a significant milestone in the Qatargas 2 project," said His Excellency Abdulla bin Hamad Al-Attiyah, Deputy Premier and Minister of Energy & Industry. "ExxonMobil has been a strong partner with Qatar Petroleum, offering innovative technologies and expertise that have helped transform our regional gas resource into a global supply of clean-burning energy." Rex W. Tillerson, chairman and chief executive officer of Exxon Mobil Corporation, said, "In the years ahead, the world will continue to face many energy challenges as we meet the growing energy needs of the global economy in a safe, efficient, and environmentally responsible way. South Hook, as a vital part of the Qatargas 2 project, stands as a shining example of how this can be achieved. Working together with Qatar Petroleum in open markets and under stable policies, South Hook is a striking example that international teamwork and technology can provide the energy needed to fuel economic growth, improve environmental performance, and build a brighter future for all." Liquefied Natural Gas (LNG) is one of the fastest growing sources of energy supplies. Global LNG demand is expected to reach approximately 470 million tons per annum (MTA) by 2030, an increase of over 200 percent since 2005.
Who is really behind RosGas?
11 May 2009 - New Europe
by Kostis Geropoulos
- Hungary's largest gas distribution company, EMFESZ, has been "fraudulently" sold to the mysterious Swiss-based firm RosGas AG without the consent of its owner, Ukrainian gas billionaire Dmitry Firtash, Robert Shetler-Jones, chief executive of Group DF that holds Firtash's business assets, told New Europe telephonically on May 8, adding that DF would fight to get EMFESZ back. "We at Group DF and Mr. Firtash have sold nothing. What has happened is that our Managing Director, Mr (Istvan) Goczi has fraudulently transferred the shares in EMFESZ to RosGas without our approval and without our consent," Shetler-Jones claimed. He said that the sale raises new concerns about Europe's gas security since the future EMFESZ, Hungary's largest independent supplier of gas, remains uncertain. "We do not know who is behind RosGas and therefore we don't know who is looking to supply EMFESZ with gas," Shetler-Jones said, adding that he doesn't understand how RosGas can secure supplies of gas to provide to EMFESZ. Little is known about RosGas, the Swiss company which was recently created in Zug. Shetler-Jones claimed that RosGas has a few directors, one of whom is an officer who is directly responsible to Goczi, the managing director of EMFESZ. "We do not know who owns RosGas, we do not know on what basis they have persuaded Mr. Goczi to carry out this fraudulent operation," he said. Shetler-Jones stressed that there has not been a decision of the board of directors to sell EMFESZ to RosGas. "Mr Goczi, what he seems to be saying is that he is using a power of attorney for this so-called 'sale.' The power of attorney he is supposedly using is one dating from 2004 that was issued to him to initially buy the shares in EMFESZ on behalf of Mr. Firtash. He somehow managed to persuade the Hungarian authorities that this power of attorney gives him the authority also to sell the shares onto a third party," Shetler-Jones claimed. "However, this does not, in our view, give him the right; it is certainly not done with our approval and therefore we will be pursuing all legal means in our path to get this asset back to our control," he told New Europe, adding that Group DF will "most certainly" seek criminal charges against Goczi and his associates. The dispute over the ownership of EMFESZ comes weeks after Firtash was muscled out of the Ukrainian gas trade under the terms of a new Russian-Ukrainian contract agreed by his nemesis Ukrainian Prime Minister Yulia Tymoshenko and Russian counterpart Vladimir Putin after the January gas supply crisis. Under the new contract, Russian gas monopoly Gazprom will supply Ukraine directly, cutting out the middleman – RosUkrEnergo. Firtash owns 45 percent of Swiss-registered RosUkrEnergo, where he is a partner with Gazprom, which holds another 50 percent of the trader. EMFESZ announced two weeks it was switching its gas purchases from Rosukrenergo to RosGas. Asked about the switch, Shetler-Jones said, "As far as I'm aware RosGas is not supplying gas to EMFESZ. One of the issues that concerned us was the very statement that EMFESZ made about securing supplies of gas from RosGas ... Group DF was not aware of those negotiations and, of course, we do not know what Rosgas is, so I'm assuming that is all part of the process that we now seeing unwinding, the transfer of shares, the sourcing of different supplies of gas and who is behind it is fundamental to understanding what has happened." In a statement, EMFESZ said that RosGas is part of Gazprom's network of business interests. This claim was dismissed by Gazprom Press Secretary Sergei Kupriyanov. "RosGas has nothing to do with Gazprom and does not belong to the Gazprom group," Kupriyanov said. Shetler-Jones told New Europe that there is no evidence that there is any connection between RosGas and Gazprom. "If it is Gazprom and again we have no proof if it is Gazprom, of course this would be extremely important commercially but also politically, but I do reiterate that we have no evidence to that effect at the moment."
Friday, May 08, 2009
President of Finland calls to end EU's gas dependency on Russia
8 May 2009 - MosNews - Europe should try to overcome its energy dependency on Russia through developing domestic resources, Finland's President Tarja Halonen has said. "Finland and all the other European countries, we are too dependent on imported energy," Halonen was quoted by Bloomberg as saying Thursday. "We should be using a broader variety of energy resources." Russia's reliability as an energy supplier came into question again in January, when the world's biggest energy exporter halted gas supplies to Ukraine for two weeks due to a pricing dispute, disrupting transit shipments to at least 20 European countries. In 2006, Russia turned off all gas exports to Ukraine for three days and cut shipments by 50 percent in March 2008 during a spat between the two countries. Europe depends on Russia for a third of its oil and more than 40 percent of its gas, most of which is carried through Ukraine, Bloomberg adds. European Union countries in total import more than half of all energy they consume. Finland relies on Russia for two- thirds of its energy imports by value, including all of the natural gas it uses, according to Statistics Finland. "I hope, we all in Europe hope, that we get a good, reliable system with Russia, because Russia is a very big energy deliverer," Halonen said during the interview at the presidential palace in downtown Helsinki. "We also need more domestic energy resources" such as sun, wind and bio-thermal.
Thursday, May 07, 2009
Exxon denies deal to sell Sakhalin-1 gas to Gazprom
May 6, 2009 - MOSCOW (Reuters) - U.S. energy giant Exxon Mobil said on Wednesday it has not yet agreed to sell gas from its Sakhalin-1 project to Russia's Gazprom, denying earlier media reports about the deal. Japanese daily Nikkei reported earlier this week that Sakhalin-1 would sell 20 percent of its gas to Gazprom, citing unnamed sources. The price of sales -- the main sticking point in the talks -- had yet to be agreed, it said. "Exxon Mobil has confirmed that Sakhalin-1 consortium is still in discussions with Gazprom on potential sales of gas from Sakhalin-1 project, but no sales and purchase agreement has been signed yet," Exxon Mobil spokeswoman Dilyara Sydykova said. Exxon Mobil operates Sakhalin-1, on the Russian Pacific coast island of the same name, in cooperation with Russian state oil firm Rosneft, Japan's Itochu, Marubeni and India's ONGC. Gazprom has long said it needs the gas produced at Sakahlin-1 to cover domestic needs, while Exxon says it is looking for the best price and has eyed major importer China for some time. The project has been producing oil for several years and reached peak production of 11.2 million tonnes in 2007. It has been producing gas since 2005 and shipping small volumes to continental Russia. It has signed a deal to supply China with 8 billion cubic metres (bcm) of gas a year and hopes to start the supplies next decade.
Eon chief to step down in 2010
May 6 2009 - Financial Times
by Chris Bryant
- Wulf Bernotat, the chief executive of Eon, announced on Wednesday that he would quit Germany's biggest utility in 2010. Mr Bernotat, 61, one of the country's best known businessmen, told Eon's annual general meeting in Essen that he would not seek the renewal of his contract next year in order to pursue "new professional challenges beyond the operational business". He pledged to work with his "full energy" during the next 12 months and would leave behind an "integrated, internationally-positioned and competitive company". The company's shares traded 2.4 per cent lower at €25.69 following the news. Speculation had mounted about Mr Bernotat's future after Eon recorded an inauspicious start to 2009. The Düsseldorf-based company has not been left untouched by the economic crisis, forcing the company to lower its earnings forecasts, announce cost-cuts and take charges on recent acquisitions. Eon's shares have tumbled by around 40 per cent since last year — more than some of its rivals — which has come as a painful blow to shareholders accustomed to bumper profits and the company outperforming RWE, its German rival. A period of consolidation began in February when Mr Bernotat announced a €1.5bn ($2bn) cost-cutting programme and €3.3bn in writedowns related to acquisitions in Italy and the US. A month later, Mr Bernotat said net income would fall by 10 per cent this year and announced that Eon would divest at least €10bn of assets by the end of next year, an about-turn after a period of rapid expansion. Mr Bernotat, who became chief executive in 2003, launched a whirlwind acquisition spree in 2006 which maintained Eon's dominant position in the European market but left it nursing an enlarged debt pile. Although he failed in 2007 to acquire Spain's Endesa for €43bn, he struck a deal with Italian utility Enel and Acciona, the Spanish construction group, to buy €11.8bn of assets in Spain, Italy and France. Eon also spent around $6bn to acquire OGK-4, a Russian power company. Ulrich Hartmann, Mr Bernotat's predecessor and the head of Eon's supervisory board, said a successor had not yet been identified. However, people close to the company said Johannes Teyssen, who last year was promoted to vice-chairman of the management board of management, was the clear favourite.
Wednesday, May 06, 2009
Sakhalin-1 to sell 20pct of gas to Gazprom
May 5, 2009 – (Reuters
by Simon Shuster)
- MOSCOW, The Sakhalin-1 consortium has agreed to sell 20 percent of the natural gas extracted from the large oil and gas project to Russian gas export monopoly Gazprom, Nikkei reported on Tuesday citing unnamed sources. The price of the gas, which has been the main sticking point in talks over the sale, is still being negotiated, the Japanese business daily said in its issue due for publication Wednesday. U.S. energy major Exxon Mobil (XOM.N) operates Sakhalin-1, on the Russian Pacific coast island of the same name, in cooperation with Russian state oil firm Rosneft, Japan's Itochu, Marubeni and India's ONGC. Gazprom spokesman Sergei Kupriyanov said he could not immediately comment on the report, as did a spokesman for state-controlled Rosneft. A spokeswoman for Exxon Mobil also declined to comment. Gazprom has long said it needs the gas produced at Sakahlin-1 to cover domestic needs, while Exxon has long-stated it is looking for the best price, though has eyed major importer China for some time. The project has been producing oil for several years and reached peak production of 11.2 million tonnes in 2007. It has been producing gas since 2005 and shipping small volumes to continental Russia. It has signed a deal to supply China with 8 billion cubic metres (bcm) of gas a year and hopes to start the supplies next decade.
Tuesday, May 05, 2009
EU sets sights on 'new Silk Road'
04 May, 2009 - Upstream OnLine - Europe is hoping to boost ties with Iraq and sign a deal with Turkey in its quest to develop a new southern corridor for gas imports - dubbed "the new Silk Road". The European Union's Czech presidency will host a summit of European and Central Asian countries in Prague on 8 May, seeking to smooth the path for eventual gas imports from central Asia to help reduce Europe's heavy dependence on Russia. The 27-nation EU has become increasingly uneasy over energy security since a row in January between Moscow and transit country Ukraine led to a cut in supplies to Europe in the depths of winter, a Reuters report said. Tensions have risen further since NATO expelled two Russian diplomats last month, and announced military exercises in Georgia, which fought a brief war with Russia last August. The "new Silk Road" talks in Prague will aim to convince leaders from Central Asian supplier countries such as Azerbaijan and Turkmenistan that the EU is a serious gas customer. "For those countries, the EU has for 15 years just been talking and not being serious," an official of the Czech EU presidency told Reuters. "We are trying to persuade people in the EU to put their money where their mouths are." An early draft of a declaration prepared for leaders on Friday said: "We agree ... for the EU and Iraq to sign a memorandum of understanding on energy as soon as possible." Iraq is seen as a promising new source of gas for the proposed Nabucco pipeline, which has so far been focused on carrying Azeri gas but has only sourced one fifth of that needed to justify its construction. Haggling over the transit of gas to Europe could delay the development of some Azeri gas for Nabucco until 2016, two years beyond its initial launch date, Azeri suppliers said last month. The draft called on EU member states involved in Nabucco to end that wrangling and to sign an intergovernmental accord with transit country and EU candidate Turkey by June. That step would clear one of the main obstacles potential investors face in planning for Nabucco and would also improve clarity for the rival ITGI project, which would bring gas from Turkey to Europe via Greece and then Italy. An intergovernmental agreement for ITGI should also be signed this year, said the draft, which could yet change as the meeting approaches. The meeting on Friday will come a day after a summit to launch the European's Union's Eastern Partnership project with Ukraine, Moldova, Belarus and other energy transit states. The Czech EU official said that after years of wavering, Europe had no time to lose in securing alternatives to Russian gas. "The risk is simple - that Azerbaijan will sell its gas to Russia, and Turkmenistan will be pushed to sell to Russia or Iran," he said. "How can you create a gas market, or any market, if you have one or two inputs," the official added. "The only thing that will happen is that prices will skyrocket."
Contact me: